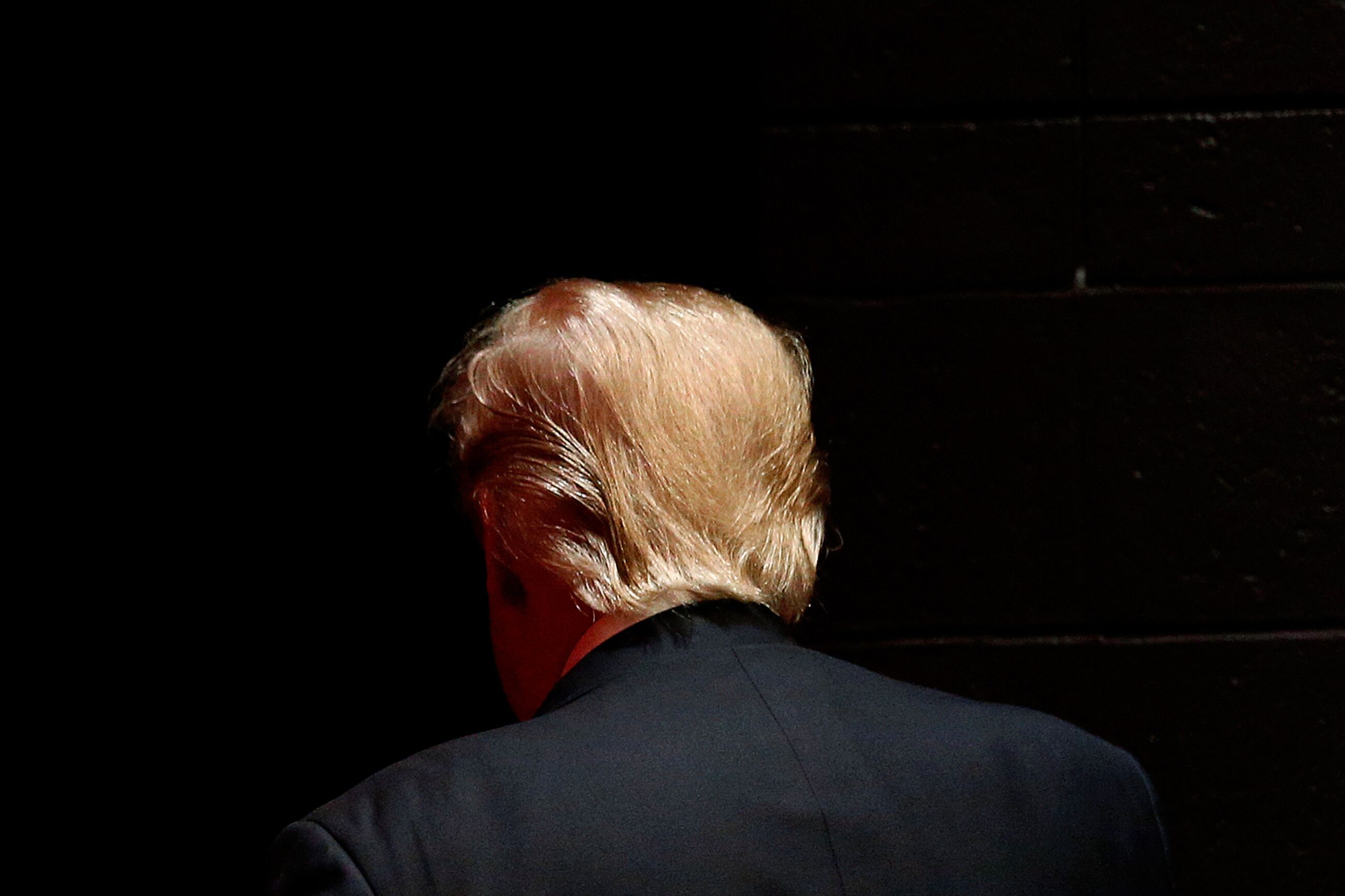 In the multicultural days of The Apprentice, he rose to a level of popularity with minorities that the GOP could only dream of. Then he torched it all to prepare for a hard-right run at the presidency.
Donald Trump had been thinking about running for president for more than 20 years before he locked onto the twin issues of race and immigration that vaulted him to the White House. Trump's presidency, and the toxic civic culture it ushered in, will forever be linked to these issues.
History could have been different. While Trump always displayed populist instincts, his opinions on national affairs tended to reflect the views of a New York Democrat, which was, after all, the world he inhabited. It's almost impossible to imagine now, but in the period just before he entered politics, Trump's appeal to blacks and Hispanics was powerful enough to make him the darling of corporate America. Although he was not a politician, Trump's multicultural appeal was an achievement that a sclerotic Republican Party was increasingly desperate to match.
One reason this story has never been told is because Trump decided he'd be better served politically by destroying this legacy. He wasn't exactly wrong: His "birther" attack on President Obama in 2011, when Trump was eyeing a 2012 run, marked a sharp pivot on race and then immigration that enabled his remarkable rise to the presidency.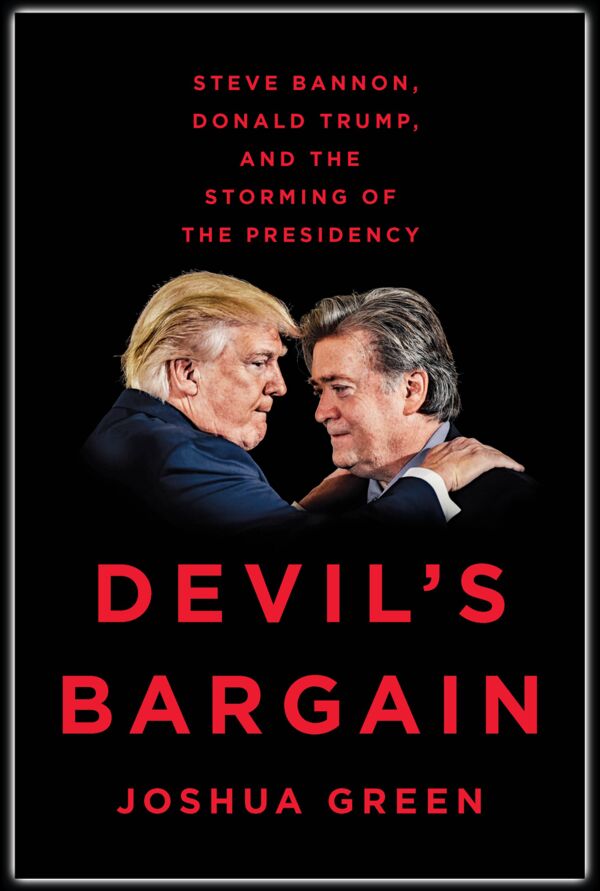 On Jan. 8, 2004, viewers of NBC's prime-time television lineup got the first glimpse of a show soon to become a cultural sensation. As a crow's-eye view of the Manhattan skyline floated across the screen, Donald Trump's unmistakable voice, all steely self-confidence, laid out the premise of his new series: "New York. My city. Where the wheels of the global economy never stop turning." The perspective jumps to the back seat of a limousine and a familiar figure: "My name is Donald Trump, and I'm the largest real estate developer in New York. I own buildings all over the place, model agencies, the Miss Universe pageant, jetliners, golf courses, casinos." As he climbs out of the limousine toward a "Trump"-emblazoned helicopter that awaits him, he delivers the payoff: "I've mastered the art of the deal, and I've turned the name Trump into the highest-quality brand. As the master, I want to pass along my knowledge to somebody else. I'm looking for … the apprentice."
Right out of the gate, The Apprentice was a hit. During its first season, the show drew an average of more than 20 million viewers a week. It was the dawn of the reality-TV era, and Trump's cartoonish persona lent itself perfectly to the new medium. Each week, Trump would preside from what appeared to be a luxe, walnut-lined boardroom high up in Trump Tower. Each week, at the end of the show, Trump would dispatch one of the contestants with his signature phrase: "You're fired!"
NBC executives were thrilled by the surprise hit on their hands. Until The Apprentice, the network hadn't managed to develop a successful reality-TV franchise, and it was falling behind its major competitors, CBS (Survivor, Big Brother) and ABC (The Mole). Trump's success was all the more important to NBC because the show aired in a critical time slot—Thursday prime time—that for years had boasted a powerhouse lineup, most recently anchored by the ensemble comedy Friends. But by the spring of 2004, Friends was finishing up its final season. To NBC's great relief, The Apprentice reached out and took the baton.
The show's fast success produced significant economic benefits for the network. It did so for Trump, too—but it also did something more. It indelibly established his national image. Mark Burnett, the show's creator, had originally sold the concept to NBC as one where Trump would host The Apprentice for only the first season, after which he would give way to a succession of iconic business moguls, such as Richard Branson, Mark Cuban, or Martha Stewart. That idea quickly fell by the wayside. "After the first episode," Jeff Gaspin, who ran reality programming for NBC, told the Washington Post, "we said we want more Trump."
Trump's power to draw a mass audience during prime time was vital by the mid-2000s, when the major networks began losing audience share to cable television and other online outlets. The fact that he could reliably hold huge swaths of viewers made it easy for NBC to line up major advertisers: McDonald's, Pepsi, Home Depot, Visa, Ford Motor, Capital One Financial, Kellogg's, Panasonic, and many other blue chip corporations advertised during The Apprentice, several of them continuing to do so for the show's entire decade-long run. The fact that Trump's 20 million viewers were tuning in on Thursday nights also made The Apprentice the perfect destination for Hollywood studios keen to advertise the new films they would be debuting over the weekend.
But there was an additional aspect of Trump's appeal that received almost no mainstream media attention—and yet was a key part of why advertisers found his show so desirable, and why Trump, even though he was politically dormant during this period, managed to build a national profile that was dramatically different from any other major Republican figure, then or since: Trump was extremely popular with minority audiences.
Because The Apprentice drew a mass audience that pulled in an especially high proportion of black and Hispanic viewers, Fortune 500 companies seeking to reach these particular demographics could advertise on the show and get the best of both worlds. "First and foremost, advertisers are buying the absolute number—and he got really good numbers," says Eric Leininger, who was chief marketing officer at McDonald's in 2004. "Secondly, they're buying against particular demographics. And it's easier for a company like McDonald's to buy a program that has a big audience, as opposed to having to aggregate an audience by buying five smaller ones. If you can have a mass program that brings you a diverse audience, that's a beautiful thing."
It quickly became apparent that the appeal of The Apprentice to minority audiences was rooted not just in the manufactured drama of a business competition but in Trump himself and the world he projected. "As an active marketer watching the show, the beautiful thing about The Apprentice was that it was a wonderfully integrated program," says Monique Nelson, chief executive officer of UniWorld Group Inc., an advertising agency focused on minority audiences with two clients, Home Depot and Ford, that advertised on The Apprentice. "There were always people of color, women, people from all different backgrounds—so it connects. The one thing we know about marketing is that when you see a character that reminds you of yourself, you get invested."
What's more, Trump and the show's creators featured their minority contestants in a role that departed from how minority characters were historically portrayed on television and in movies: The Apprentice presented them as striving, ambitious entrepreneurs. Although she was "fired" from the show in Week 9, Omarosá Manigault-Stallworth, a black graduate student at Howard University who had held a low-level White House job for Vice President Al Gore, was the breakout star of The Apprentice's debut season, styling herself into what remains the epitome of the reality-TV villain. In the show's fourth season, which aired in the fall of 2005, Randal Pinkett, a black business consultant and a Rhodes Scholar, won the overall title and became the Apprentice. People noticed.
"They did a wonderful job of showing America as it was even then: multiethnic, multiracial, and multigenerational," says Nelson. "[The show] appealed to companies looking to reach minority audiences, and it did it authentically, without trying too hard. That means everything in marketing. You always saw a nice swath of America through that business lens."
This popularity extended to Trump himself, who, according to private demographic research conducted at the time, was even more popular with black and Hispanic viewers than he was with white audiences. "He was getting so much exposure from the prime-time show, and getting good ratings on NBC, that both his positive perception and his negative perception were well above average," says Henry Schafer, executive vice president of the Q Scores Co., an opinion research firm that serves advertisers by measuring the familiarity and appeal of celebrities and television shows and distilling them into a "Q Score." "He was the kind of vivid character that I would put in the same category as the Kardashians, Martha Stewart, and Howard Stern: celebrities you love to hate."
At his peak in 2010, Trump's positive Q Score with black audiences was 27, while his positive score among English-speaking Hispanic audiences reached 18. Among nonblack audiences, however, Trump's positive Q Score was just 8. White audiences, along with everybody else, tuned in to watch Trump—but either they didn't particularly like him or they simply loved to hate him. Either way, says Schafer, "he definitely had a stronger positive perception among blacks and Hispanics."
This perception became even more valuable as the series continued because it dovetailed with a marketing strategy just then coming into vogue in corporate America that was known as "visual diversity"—the idea being that advertisers could run commercials designed to convey the message that corporate America was not merely in touch with a racially diverse country but was itself an active (and inclusive!) participant.
Well into its run, The Apprentice was viewed by corporate America as the epitome of the forward-thinking, multicultural programming that all advertisers were increasingly seeking, especially after the election in 2008 of a biracial president. Just as Barack Obama symbolized the country's uplifting racial progress, advertisers were "also tapping into that same yearning, particularly among younger Americans, to put racial divisions behind us and move forward in a more unified way," Danny Allen, a top executive at the multi­cultural-focused ad agency Sensis, declared in 2009. As unlikely as it sounds from the vantage point of today, Trump and The Apprentice, up through the end of the decade, were considered by advertisers and audiences alike to be a triumph of American multiculturalism.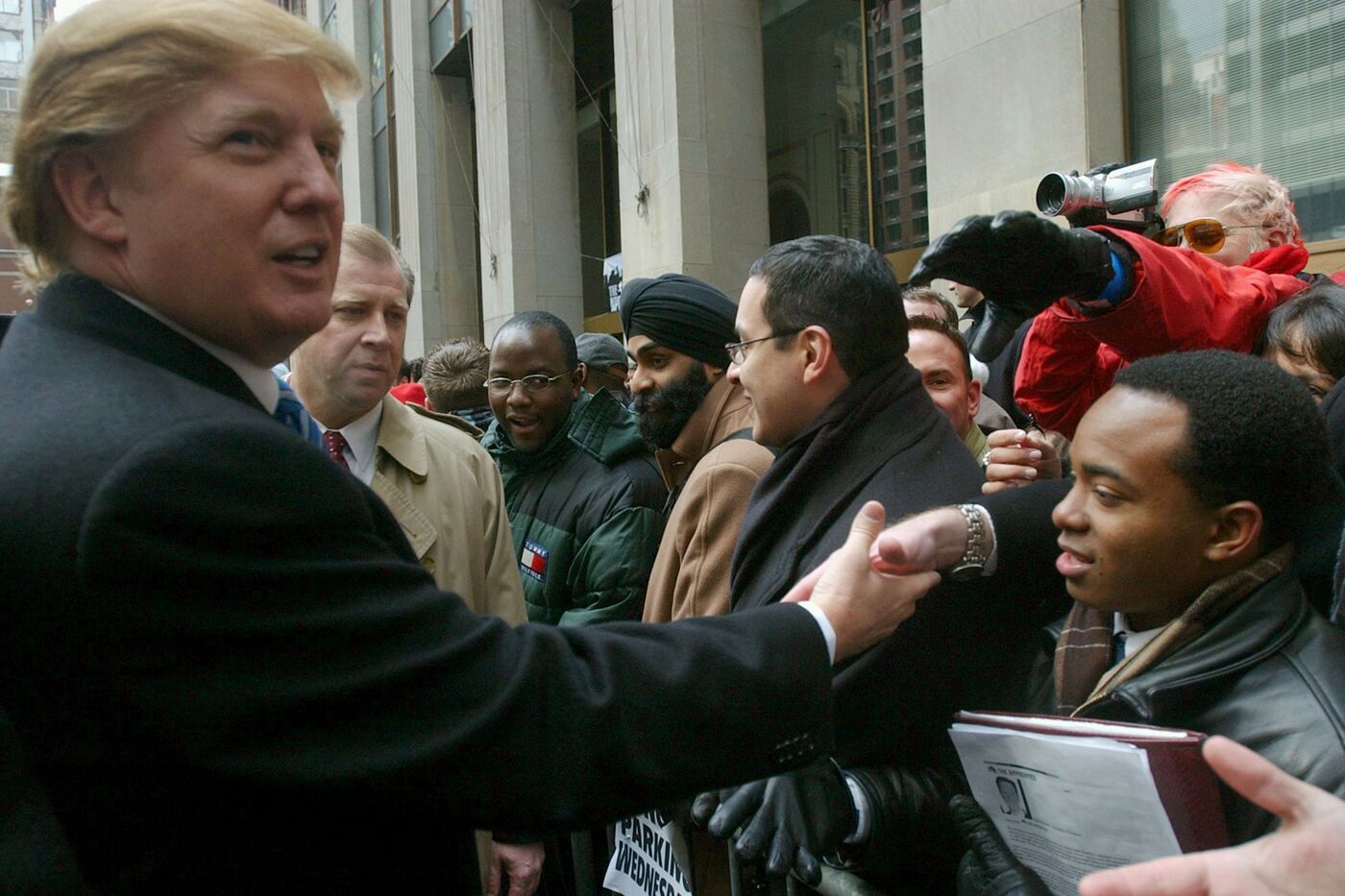 As a celebrity and a pop-culture icon, Trump was riding higher than ever. But privately he was obsessing over politics. Nobody knew it yet, but soon enough they would—because Trump was about to do something that any ordinary Republican with an eye on the White House would consider reckless to the point of insanity: He was about to torch his relationship with minority voters.
Trump had achieved by 2010 what Republican politicians had struggled, without success, to accomplish for the better part of 50 years. He had made himself genuinely popular with a broad segment of blacks and Hispanics. This audience didn't think of him as a politician, of course. Not yet. But as a starting point in a bid for higher office, Trump was already out on the far horizon of where the Republican Party one day hoped to be.
Truth be told, the party was moving in entirely the wrong direction. Ever since 1964, when Barry Goldwater championed "states' rights"—understood to signify his opposition to the civil rights movement—minority voters had turned their backs on the Republican Party. Richard Nixon's "Southern strategy"—stoking white racism for electoral gain—had only cemented this state of affairs. In the 11 presidential elections that followed Goldwater's thumping loss, no Republican had won more than 15 percent of the black vote. And in the most recent election, in 2008, exit polls showed that John McCain had pulled a meager 4 percent of them. Republicans fared slightly better among the fast-growing population of Hispanic voters, with George W. Bush hitting a high point of 44 percent in 2004. But here, too, the GOP was backsliding: McCain had carried just 31 percent of Hispanics. Republican strategists looking toward the future were already growing nervous because the changing demography of the U.S. made perfectly clear that minorities would steadily increase as a share of the eligible electorate. Republicans needed to win more of them.
Trump was the furthest thing from a racial innocent. In 1989, after five black and Hispanic male teenagers from Harlem were accused of raping a white female jogger in Central Park, he had felt it necessary to spend $85,000 running full-page ads in the New York daily newspapers calling for the return of the death penalty. "Muggers and murderers," he wrote, "should be forced to suffer and, when they kill, they should be executed for their crimes." (Even after DNA evidence exonerated the Central Park Five, Trump refused to apologize and held fast to his insistence that they were guilty.) And yet, however improbable, he had managed to win the good favor of millions of minority voters.
What was it, then, that impelled Trump to suddenly start questioning Barack Obama's citizenship and implying that he wouldn't produce a birth certificate because he hadn't really been born in the U.S.? And not just air his suspicion that Obama was born in Kenya but conduct a full-scale media blitzkrieg that took him from Fox News to ABC's The View to drive home this fantastical narrative?
Trump himself would never say. But knowing now that his presidential ambitions were serious—and not simply a ratings stunt, as we assumed at the time—it seems clear that he was considering challenging Obama in 2012 and had an inkling of the power he could marshal by highlighting the president's otherness to appeal to anti-Obama voters. The birther charge had been circulating for some time in the darker corners of the internet, on right-wing conspiracy sites, and in email chains. As someone possessing perhaps the best raw political instincts of any Republican in his generation, Trump had intuited, correctly, that a racist attack targeting a black president was the surest way to ingratiate himself with grass-roots Republican voters. And so Trump, without batting an eye, proceeded to destroy the goodwill he had built up with minority voters as a way of appealing to a new audience. (Only under great duress, when it was clearly hampering his presidential campaign, did he grudgingly withdraw the charge during a bizarre press conference, surrounded by ex-generals, that was staged in the lobby of his Washington, D.C., hotel two months before the election.)
The effect was almost immediate, and the first place it showed up was in Trump's television ratings. In the spring of 2011, as his birther crusade took off in earnest, NBC was airing a new season of The Celebrity Apprentice. According to research conducted by National Media Inc., a firm that places political ads on television, the audience that tuned in to it was among the most liberal in all of prime-time television, owing in no small part to the large number of minority viewers that Trump attracted. As he broadcast his birther charge against Obama, Nielsen ratings for The Celebrity Apprentice took a sharp turn for the worse. "Given the downward trend of Trump's ratings among his current, liberal audience," joked Will Feltus, a Republican ad buyer, "maybe he's running as a Republican to add a little bipartisan diversity to his viewership."
The effect of Trump's attacks was even more pronounced on his personal image. His favorability rating with minority viewers began to collapse. Trump's positive Q Score among blacks fell from its high of 27, in 2010, to 21 the next year, then to 10, and to 9, before bottoming out at 6 in 2014. That same year, his negative Q Score, which had floated in the 30s, skyrocketed to 55. (It's hardly unusual for a once-­popular celebrity to have a higher negative Q Score than a positive one—in fact, Bill Cosby, who hit a record-high positive Q Score of 71 in the 1980s, is now deeply underwater, says Q Scores' president, Steven Levitt.) Hispanics—not yet a Trump target—also soured on the Apprentice host. While his positive Q rating among English-speaking Hispanics roughly held steady in the teens, his negative rating soared into the mid-40s.
"I think most people thought they really knew Donald Trump," says Q Scores' Schafer. "With his show, it was an emotional pact with the audience." When minority audiences perceived Trump to have broken that pact, their judgment was severe. Q Scores doesn't measure the popularity of elected politicians; it rates only people whom it considers to be celebrities and entertainers. (It stopped measuring Trump after 2015, when he became a politician.) But among nonpolitical celebrities, Trump's favorability dropped to the bottom of the barrel. "We don't do folks like David Duke—not unless he had a show somewhere," says Schafer. "But toward the end, Donald Trump's negative rating with black audiences was the second-worst of any celebrity we measured. Do you know who the only guy was they hated worse? It was 'the Situation' from Jersey Shore."
From a raw political standpoint, Trump's decision to adopt a set of views that offended and alienated minority voters, ugly though it was, turned out well for him. He would soon go further, broadening his attacks to include illegal immigrants. Trump did so at precisely the moment when Republican leaders, led by party chairman Reince Priebus (Trump's future chief of staff), released an "autopsy" of Mitt Romney's defeat that included a detailed plan for how the party could recover. Its most important recommendation was that Republicans embrace comprehensive immigration reform in order to broaden their appeal to minority voters. In so many words, Republican leaders were telling their rank and file they needed to be more like Trump during his Apprentice glory days—while Trump was arriving at the opposite conclusion. Several years earlier, he'd been introduced to his future chief strategist Steve Bannon, who was then the executive chairman of the right-wing populist website Breitbart News. An anti-immigration zealot, Bannon eagerly encouraged Trump to do everything he could to build a political movement around white identity politics.
A wily manipulator of public sentiment whose New York upbringing taught him the power of racial resentment, Trump understood exactly what he was doing in leveling the birther attack. As he rose to the top of Republican primary polls in the spring of 2011, his instincts were borne out. But he never accepted the trade-off he'd made. By the commutative property of Trump's exalted self-­image, blacks and Hispanics still supported him with the same zeal they had during his Apprentice heyday—of this he was certain—and if the Nielsen ratings and poll numbers didn't back him up, then anecdotal evidence would suffice. A few days after locking up the GOP nomination in May 2016, Trump, sitting high up in his Trump Tower office, parried a question about his poor image with minority voters by insisting that he was as popular as ever: "A radio announcer, a Hispanic from New York, said, 'I don't know about these polls, because every listener that I have'—they call in Spanish—'they're all for Trump!' I think I'm going to do very well with Hispanics."
Whether or not he was deluding himself, Trump really had once looked poised to perform better among minority voters than any Republican since Dwight Eisenhower—at least on paper. His multicultural appeal in 2010 raises the intriguing thought that Trump could have run an entirely different sort of campaign, one that drew on his strength with a set of voters Republicans don't typically command and that sought to build on the diverse, entrepreneurial image of his TV show. "There was a time," UniWorld's Nelson points out, "where he was talking to everyone." Had he been so inclined, Trump could have run a forward-looking campaign to "Make America Greater" rather than alluding to the past with "Make America Great Again." Instead he plunged deeper into the racial morass.
One reason Trump's success in the 2016 election cycle came as such a shock is that his nascent political career was thought to have come to an abrupt and humiliating finish five years earlier. In 2011, at the height of the birther craze, Trump was invited to the White House Correspondents' Dinner, by Lally Weymouth, the daughter of the Washington Post's legendary publisher Katharine Graham.
Ever since 1987, when, in the wake of the Iran-Contra scandal, the journalist Michael Kelly brought one of its central figures, Fawn Hall, the documenting-shredding secretary to Lieutenant Colonel Oliver North, there had been an unspoken competition among prestige media outlets to land the most notorious and newsworthy guests. In the social context of elite Washington, the Post's nabbing Trump as a guest was a coup. And Trump was, by all accounts, delighted to be among the actors, starlets, and television personalities who flock to the A-list dinner each year.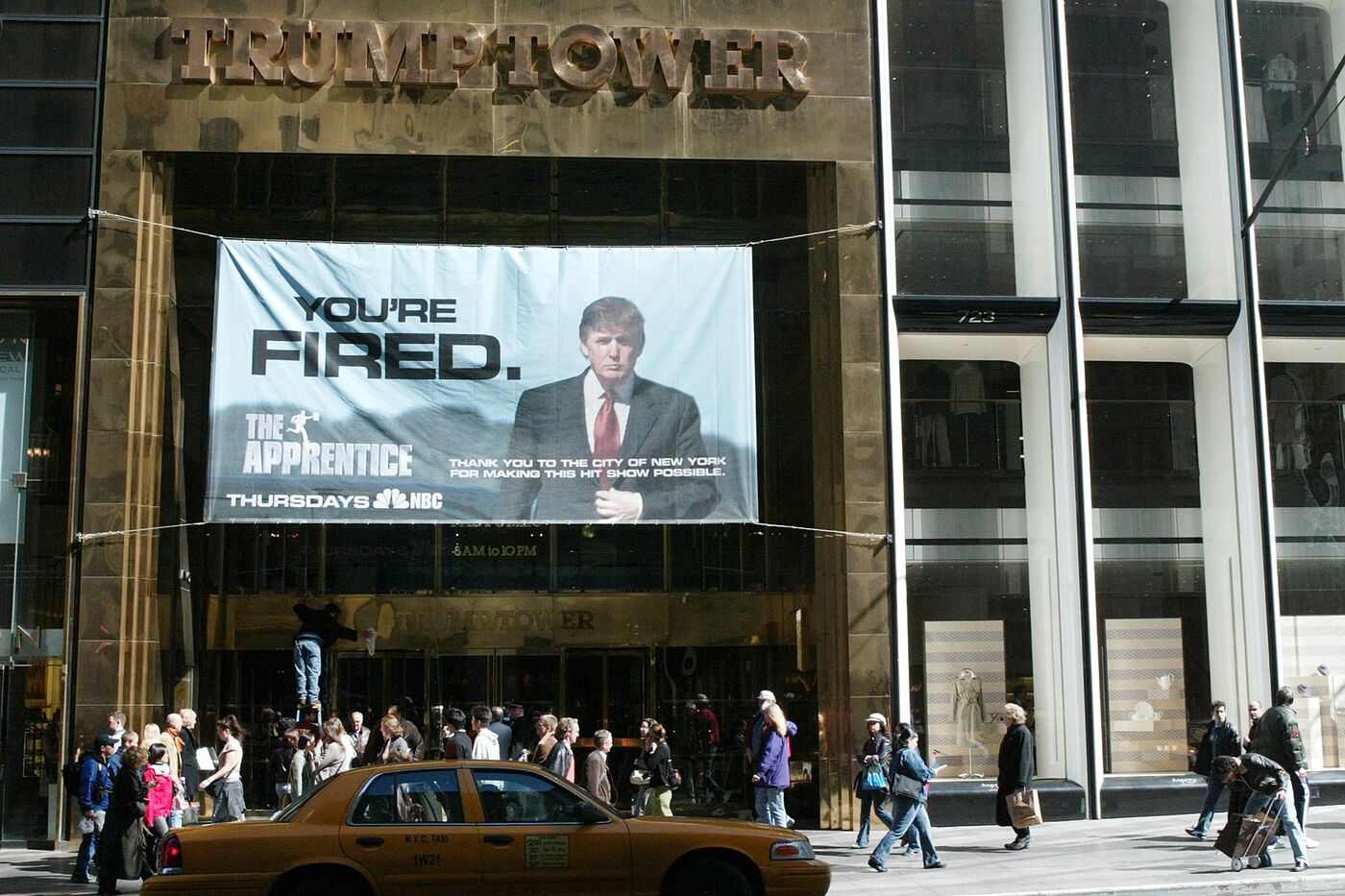 Trump was seated in the very center of the Hilton ballroom, his confection of blond hair aglow in the bright lights, his star wattage eclipsing the graying eminences of journalism and politics who craned their necks to get a look at him. No one confronted him about his birther attacks or questioned why he was so intent on humiliating Obama, since doing so would have run counter to the spirit of the evening. Instead, Trump schmoozed and flattered his fellow guests and they, in turn, schmoozed and flattered him.
The president and his staff would not be so solicitous. They had, in fact, been eagerly awaiting Trump's arrival in Washington from the moment the news became public, recognizing the occasion as the perfect opportunity to exact revenge. Obama's writing staff even brought in a ringer, the comedian and director Judd Apatow, to help compose a devastating takedown of Trump.
Toward the end of the evening, when the lights dimmed for Obama's remarks, giant screens throughout the ballroom broadcast a blaring music video of Rick Derringer's cheesy rock anthem Real American that the White House digital strategy team had crammed full of over-the-top patriotic imagery: rippling American flags, screaming eagles, Uncle Sam—and then Obama's long-form birth certificate came dancing across the screen. The White House had just released it three days earlier, after months of Trump's haranguing suggestion that Obama couldn't produce it because he hadn't really been born in Hawaii.
As the lights came up, Obama stood at the podium grinning broadly and looking right at Trump. "My fellow Americans, mahalo!" he said. "As some of you heard, the State of Hawaii released my official long-form birth certificate. Hopefully this puts all doubts to rest. But just in case there are any lingering questions, tonight I'm prepared to go a step further. Tonight, I am releasing my official birth video."
Now the screens showed a clip of Disney's The Lion King bearing a time stamp that read Aug. 4, 1961—Obama's birthday. The crowd hooted and laughed.
"Donald Trump is here tonight," the president announced. "Now, I know he's taken some flack lately. But no one is happier, no one is prouder to put this birth certificate matter to rest than the Donald. And that's because he can finally get back to focusing on the issues that matter, like … did we fake the moon landing? What really happened in Roswell? And where are Biggie and Tupac?"
The crowd laughed louder. Trump sat frozen in a rictus grin.
Obama kept after him: "All kidding aside, obviously we all know about your credentials and breadth of experience, um"—here Obama paused to let the laughter die down—"No seriously, just recently, in an episode of Celebrity Apprentice, at the steakhouse, the men's cooking team did not impress the judges from Omaha Steaks. There was a lot of blame to go around. But you, Mr. Trump, recognized that the real problem was a lack of leadership, and so ultimately you didn't blame Lil Jon or Meatloaf—you fired Gary Busey."
Saturday Night Live's Seth Meyers was up next. After methodically working through the field of 2012 Republican presidential hopefuls, he arrived at his real target. "And then, of course, there's Donald Trump," Meyers said, with a devilish grin. "Donald Trump has been saying that he will run for president as a Republican—which is surprising, because I just assumed that he was running as a joke."
Trump reddened.
"Donald Trump often appears on Fox," Meyers continued, "which is ironic, because a fox often appears on Donald Trump's head. If you're at the Washington Post table with Trump and can't finish your entree, don't worry: The fox will eat it."
More laughter.
Gone from Trump's visage was any pretense that he was enjoying this. Trump was plainly humiliated—and it showed. When Meyers finished, Trump, looking shaken, beat a hasty retreat. He had been "incredibly gracious and engaged on the way in," Marcus Brauchli, the Post's executive editor, would later say, but after his drubbing, Trump had departed the dinner "with maximum efficiency."
To all outward appearances, Trump had just been brutally dispatched—his dignity snatched away from him, his foray into politics swiftly cut short, the preening, grasping interloper who had barged into a world where he didn't belong sent crawling back to his rightful station: a tawdry world of bimbos, pink marble, reality TV, and Page Six. This is what all of Washington understood to have happened, for years afterward: Trump had made another of his absurd periodic displays of pretending to contemplate a run for president, ventured too far in his quest for publicity, and suffered a terminal humiliation. Now the universe had snapped back into balance and ejected him.
Only that wasn't what had happened at all. After his excommunication at the 2011 White House Correspondents' Dinner, Trump fell off the mainstream political radar, save for his periodic appearances on Fox News. Despite the outcry over the birther issue, only a single corporate advertiser, Groupon, bailed on The Apprentice. For people who read newspapers and watched the evening news, Trump appeared to have left politics safely behind. But in the parallel world of right-wing websites and talk radio, he was gaining a loyal following.
One of Trump's most faithful attendants during this period was Christopher Ruddy, the publisher of Newsmax Media Inc. and a Clinton conspiracy buff whose 1997 book, The Strange Death of Vince Foster: An Investigation, darkly posited that the 1993 suicide of the deputy White House counsel and longtime Clinton friend might have been a murder. Ruddy, as the journalist Michael Isikoff memorably described him, was "the Inspector Clouseau of the Foster case—a determined, if bumbling, former New York Post reporter who has virtually single-handedly spawned a cottage industry of conspiracy buffs dedicated to the proposition that a foul and monstrous cover-up surrounds the circumstances of Foster's death."
By 2006, Ruddy had built a successful right-wing publishing empire near his home in West Palm Beach, Fla., where prominent Republican politicians would come to seek his favor. There he befriended Trump, who extended an invitation that Ruddy accepted to join his Palm Beach club, Mar-a-Lago. Ruddy's Newsmax supplied a steady stream of fawning testimony to Trump's supposed political power ("The Trump Effect") along with face-saving ego balm when the GOP establishment denied him the respect he desired ("Trump Declines Prime-Time GOP Convention Speech"—he wasn't offered one). In a colorful burst of cross-promotional synergy, Ruddy even arranged for Newsmax to host a 2012 Republican presidential debate in Iowa that Trump himself was going to moderate. Alas, Trump backed out when only Newt Gingrich and Rick Santorum agreed to participate. The debate was canceled.
Trump was still feeling his way toward a political identity when Mitt Romney lost the 2012 presidential election. Through Newsmax, Trump delivered a blistering critique of why Romney had failed, one that now feels disorientingly out of character, because he attacked the former Massachusetts governor over his stance on immigration—but did so from the Left. "He had a crazy policy of self-deportation which was maniacal," Trump complained to Newsmax. "It sounded as bad as it was, and he lost all of the Latino vote. He lost the Asian vote. He lost everybody who is inspired to come into this country." Romney's approach was too "mean-spirited," Trump averred, and thus was always destined to fail.
One Trump adviser who wished to remain nameless suggested that Trump's seeming moderation on immigration here was driven by business concerns rather than politics. Trump had bought the Doral Resort and Spa in Miami out of bankruptcy in 2012 for $150 million and was in the process of renovating the 800-acre golf resort. Aware that Miami is "an epicenter of immigrants" and that he would need zoning variances, the adviser said, Trump took special care not to offend them.
As he navigated the fever swamps of the Right, Trump quickly became attuned to the roiling grass-roots anger over illegal immigration. "It was intuitive by him to use immigration as a new wedge issue," says Sam Nunberg, a former Trump adviser who was fired from the campaign in 2015 over racially charged Facebook posts. Recognizing that his base of support would never come from genteel, country-club Republicans, Trump felt free to abandon niceties and embrace the same mean-spiritedness for which he had just criticized Romney. "He digests this stuff," says Nunberg. "He knew who his audience was going to be—it was not going to be people who want to have policy debates. It was going to be older people, people who work with their hands."
The political fault line Trump stumbled across had lurked beneath the surface of Republican politics for a long time. Illegal immigration divided law-and-­order conservatives, who wanted to see lawbreaking immigrants deported, from business-minded conservatives, who preferred to maintain a cheap source of labor, held more ecumenical views, and worried about the risks of alienating Latino voters. Periodically these tensions flared up, as they had in 2007 when President George W. Bush, hailing the United States as "a nation of immigrants," tried to pass an immigration reform bill that would have allowed 12 million undocumented immigrants to become U.S. citizens. His effort was soundly defeated by conservatives in his own party who attacked the "amnesty" Bush was offering to people who had broken the law.
As the Republican Party turned once again to immigration reform following Romney's poor showing with Hispanic voters, these same tensions rose to a boil, even as leaders in both parties agreed it was time to get something done. Trump positioned himself squarely against the effort, encouraged by his growing fixation with what was then still an unorthodox political technology: Twitter. "That was our focus group," says Nunberg. "Every time Trump tweeted against amnesty in 2013, 2014, he would get hundreds and hundreds of retweets."
For a brief time after Obama's reelection, it appeared as if a moment of reconciliation might finally be at hand. From its earliest days, Obama's first term had been marked by uninterrupted partisan fighting over everything from the $800 billion stimulus package to the new health-care law. Bitterly frustrated by that rocky experience, Obama had won a second term and, he imagined, a chance to finally pursue bipartisan legislation. Always prone to applying Spock-like logical rigor to his analysis of a Republican Party that rarely hewed to this standard, Obama expected to encounter a new, more productive attitude from his opponents across the aisle.
The early signs were propitious, and they all centered on immigration. Stunned by a loss few of them had anticipated, most prominent Republicans concluded that passing comprehensive immigration reform was an existential imperative for the party. In early 2013, the vehicle to do so took shape in what became known as the "Gang of Eight" bill, a bipartisan reform measure led by eight senators that would provide a path to citizenship for the now 11 million immigrants living illegally in the United States, while also enlarging guest-worker programs for low-skilled jobs in industries such as agriculture. In what seemed a positive omen, the Gang of Eight bill had the added designation of being a vehicle for the presidential ambitions of Senator Marco Rubio of Florida, the telegenic young Cuban American then considered to be the GOP's brightest rising star. With Rubio, the darling of Fox News, leading the charge, the bill appeared to have unstoppable momentum.
With the marquee conservative outlet Fox News squarely behind immigration reform and the Democratic Party united in support, the locus of opposition to the Gang of Eight bill emerged in the conservative underworld: Breitbart News, the Drudge Report, and a far-flung network of allied radio talk shows. To Bannon, who was now running Breitbart News following Andrew Breitbart's death in 2012, killing the reform effort became a defining crusade. The website published a daily fusillade of alarmist fare about hordes of murderous illegal immigrants pouring across the southern border and the treasonous Republicans in Congress turning a blind eye to their menace.
Having produced the 2006 documentary Border War on the subject, Bannon knew how to maximize his viewpoint for dramatic effect. At his urging, Breitbart opened a Texas bureau and developed a network of sources that included Immigration and Customs Enforcement agents stationed on the U.S.-Mexico border, who provided on-the-ground details that made these stories more vivid. "Among those informed about immigration [the Gang of Eight bill] was shocking—a kick in the teeth to decent Americans," said Jeff Sessions, then a staunchly anti-immigrant Republican senator from Alabama, who would later become Trump's attorney general.
An abiding frustration of right-wing populists such as Sessions and Bannon was that their views had little representation in the mainstream media, or even in conservative alternatives like Fox News. Rupert Murdoch, the CEO of News Corp., which owned Fox, and Roger Ailes, the network's president, were both strong advocates of immigration reform, and made sure the network reflected their preferences. "God bless Fox," gushed South Carolina Senator Lindsey Graham, a Republican Gang of Eight member, soon after the bill was introduced. "Eighty percent of people [voting] in my primary get their news from Fox."
Instead, Breitbart News stories fed the opposition, suffusing right-wing radio. "They have an incredible eye for an important story, particular ones that are important to conservatives and Republicans," Sessions told Bloomberg Businessweek in 2015. "They've become extraordinarily influential. Radio talk-show hosts are reading Breitbart every day. You can feel it when they interview you."
Trump felt it, too, and he responded almost immediately. "When I started putting him on conservative talk radio in 2013," says Nunberg, "Mark Levin's show and guys like that, they kept asking him about immigration. That opened his eyes." The issue also dovetailed with Trump's long-held view that the U.S. was being taken advantage of by hostile foreigners.
By the time Trump spoke at the Conservative Political Action Conference on March 15, 2013, less than four months after decrying Romney's "mean-­spirited" attacks on immigrants, he was a fully recognizable incarnation of the candidate who would storm the White House three years later. "We have to make America strong again and make America great again," Trump told the CPAC crowd. "Because when it comes to immigration, you know that the 11 million illegals, if given the right to vote … every one of those 11 million people will be voting Democratic." Republicans who supported immigration reform, Trump warned, were "on a suicide mission."
Although it passed the Senate, the following summer the Gang of Eight bill died in the House, done in by conservative backlash. Breitbart News put the final nail in the coffin. Tipped off by border agents, the website first drew attention to the child migrant crisis at the U.S.-Mexico border. The vivid scenes of helpless U.S. officials and detention facilities overrun by waves of Mexican and Central American children were widely picked up by the national media, killing any chance of Congress passing immigration reform. The backlash also took down Republican House Majority Leader Eric Cantor of Virginia. In June 2014, after Cantor was blindsided in the GOP primary by an unheralded economics professor named David Brat, Trump gave an interview to Breitbart News that delighted conservative populists by blaming unchecked immigration for the party leadership's stunning loss.
Cantor's defeat was "a great signal because it tells them people want to get our house in order," Trump said in the interview. "If you look at what's happening in Texas right now, or other places, people are just flowing into this country just like it's an open-door policy. We're supposed to provide health care and we're supposed to provide education—we're supposed to provide everything. … We take care of everybody else before we take care of our own people."
Trump had transformed himself into a full-blown hard-right populist, a political persona he now projected like a cologne. He had made up his mind to run for president. "Donald told me on New Year's Day 2013, when I called to wish him Happy New Year, that he'd just trademarked the phrase 'Make America Great Again' and was definitely going to run," says Roger Stone, Trump's longtime political adviser. Yet few people noticed or cared. He was still a punchline. In fact, Republicans were soon celebrating. The 2014 midterm elections brought sweeping gains at every level of government, handing the party control of the Senate. As they looked ahead to the presidential election, Republican leaders were giddy at the presumed strength of the emerging GOP field, a distinguished roster of senators and governors—and perhaps even the more talented sibling in a Bush dynasty that had already produced two presidents.
Trump was no longer "talking to everyone." Now he was talking solely to the conservative grass roots and saying wildly polarizing things. It would not become clear until much later that Trump, the stridently anti-immigrant populist, was better able to address (and stoke) the fear and anger of Republican voters than anyone else in the vaunted GOP field.
Or rather, it wasn't yet clear to the wider world. Inside Trump's circle, the power of illegal immigration to manipulate popular sentiment was readily apparent, and his advisers brainstormed methods for keeping their attention-­addled boss on message. They needed a trick, a mnemonic device. In the summer of 2014, they found one that clicked. "Roger Stone and I came up with the idea of 'the Wall,' and we talked to Steve [Bannon] about it," says Nunberg. "It was to make sure he talked about immigration."
Initially, Trump seemed indifferent to the idea. But in January 2015, he tried it out at the Iowa Freedom Summit, a presidential cattle call put on by David Bossie's group, Citizens United. "One of his pledges was, 'I will build a wall,' and the place just went nuts," says Nunberg. Warming to the concept, Trump waited a beat and then added a flourish that brought down the house.
"Nobody," he said, "builds like Trump."